Afghanistan Offer
Call all Etisalat Afghanistan numbers for as low as 11 Paisas+tax / second.
First time in Pakistan, pay as much as you talk with a "Per Second Charge" for calling any Etisalat Afghanistan number and that too at an amazing lowest market rate of 11 Paisa + tax / second.

Offer is by default available to all Prepaid & Postpay customers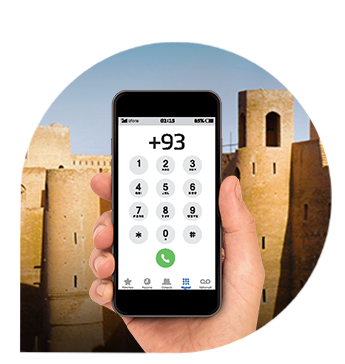 No subscription required and no daily charges
Limited time offer
Terms & conditions apply
For Postpay Customers
Other than U50, U250, U550, U1000, U1600, & U5000 Postpay packages, air time will be charged as per the package plan in addition to the IDD charges.
Taxes on all Postpay packages and products will be charged on the billing address according to the provincial taxes imposed by the Government of Pakistan, presented in the table below.
Tax Territory
Postpay Tax Regime
AIT
GST – Voice, texts,
VAS, Line rent &
other services
1
Punjab
12.50%
19.50%
2
Sindh
12.50%
19.50%
3
Khyber Pakhtunkhwa (KPK)
12.50%
19.50%
4
Baluchistan
12.50%
19.50%
5
Islamabad (ICT)
12.50%
17.00%
6
Azad Jammu & Kashmir (AJK)
12.50%
17.00%
7
Gilgit-Baltistan
(GB)
12.50%
0.00%
8
Federally Administered Tribal Areas (FATA)
0.00%
0.00%
9
Provincially Administered Tribal Areas (FATA) – KPK
0.00%
0.00%
10
FATA- Balochistan
0.00%
19.50%
For Prepaid Customers
Additional call setup charges of Rs. 0.13+tax will be charged on every call.
For Regional Tax rates on call setup charges, please click here
Your SIM is your identity, only use SIMs issued through Biometric Verification – PTA.