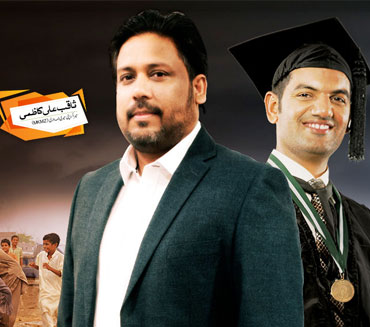 Ufone is launching the second part of its campaign that is all about ordinary people who are doing extraordinary things; things that make them an example for generations to come.
In the first phase Ufone paid a tribute to Mohsin and Saqib. Mohsin, who works at a tandoor, topped the 'BA position holders' list and secured a gold medal. Saqib, a businessman, helped provide 25,000 families in Sindh with clean drinking water.
In the second phase of this campaign, Ufone celebrates the achievements of Shamim and Sabiha. Shamim, an extraordinary individual, who in the face of adversity refused to succumb to the financial issues she was facing and instead believed in her ability to provide for her family. In order to run her household she started taking driving lessons for heavy vehicles becoming Pakistan's first female truck driver. Even though she faces challenges every day, Shamim refuses to give up and is determined to inspire Pakistani women to fight for equality!
Sabiha, hailing from a small village in Haripur, broke all stereotypes by not only openly participating in sports but also becoming the National Cycling Champion within two years. A highly driven individual, she aims to represent Pakistan in the South Asian games next year as well as using her bachelor's degree in physical education to build her career.
Ufone will keep standing by these Pakistanis every step of the way … Mohsin, Saqib, Sabiha and Shamim, Ufone is with U!