Best Morning Offer
| | |
| --- | --- |
| Price | Rs. 8 (Incl. tax) |
| Internet | 2GB (9AM-12PM) |
| Validity | 01 Day |
| To subscribe dial | *4200# |
Please enter your mobile number below.
Dear Customer, You will receive a confirmation SMS on your mobile phone. Please reply with 'Y' to get the service. Thank You.
Request already exists, made 9 minutes ago.
The entered mobile number is not active in Ufone.
Please enter valid mobile number.
or subscribe through 'My Ufone' App.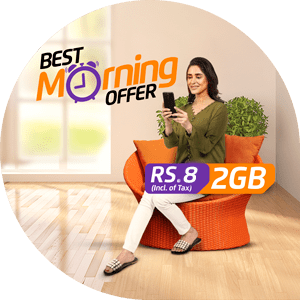 2GB Data (9AM to 12PM) is only valid till 11:59:59AM.
Subscribers can dial *4200# to subscribe to the product.
Subscribers will be able to use 2 GB (2,048 MBs).
Best Morning Offer is a non-recursive product.
Best Morning Offer is available on all commercial prepaid packages.
Multiple subscriptions are allowed.
Resource accumulation is not allowed.
Subscribers can query remaining data by dialing *706#.
After the consumption of offer volume, internet will remain active and will be charged at default tariff i.e. Rs. 2.75 + Tax per MB (https://ufone.com/support/tax/) at a charging pulse of 512 KBs. On usage of 25 MBs you will get 150 MBs free till midnight and so on.